Our Facilities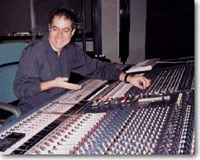 Engineer David Merrill at
Studio A1's custom Neve V Console
MSA to the Rescue
How Master Sound Astoria helped Billy Crytal and Howard Shore out of a tight spot

Studio A1 Fact Sheet


Studio A2 Fact Sheet


Microphone list


Musical instrument list
MSA boasts one of the last large live rooms in New York (Studio A1).

Permanent fiber optic tie lines to Lifetime Television studios offer expanded multimedia potential. This partnership enables satellite connectivity and the capacity to host live simulcast productions anywhere in the world.
Lock to Picture? No problem, be it film scoring, ADR, foley work, or a soloist needing to follow video of the conductor from the original tracking date.

We are digital multi-track, analog multi-track, digital and analog two track, DA98 and 1630 capable. Our Sony DAE-3000 editor also allows us to digitally edit between our two Sony digital multi-track recorders. This has proven extremely useful on the many Broadway cast albums we have done.

On-site catering and 24-hour delivery from culturally diverse neighborhood restaurants is also available.

Studio A1 Fact Sheet


Studio A2 Fact Sheet


Microphone list


Musical instrument list