MSA to the Rescue
From Kaufman Astoria Studios' Studio Times, Spring/Summer 1999
How Master Sound Astoria helped Billy Crystal and Howard Shore out of a tight spot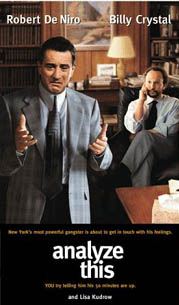 © 1999 Warner Bros.
Imagine this: a major motion picture by the name of Analyze This, starring Robert DeNiro, Billy Crystal and Lisa Kudrow, is scheduled to open in a few short weeks. Editing's complete. Everything's ready to go.
Producer Billy Crystal decides to re-edit two crucial scenes. Now, the score isn't "right." The music needs to build at just the right moment for the all-important wedding scene to play properly.
The problem is that the film's composer, the legendary Howard Shore, has gone home, back to New York.
A call comes in to ben Rizzi and Maxine Chrein at Master Sound Astoria. It's Howard Shore. He explains the situation. Master Sound Astoria takes on the job and calls quickly go out to 50 top New York musicians who will become Shore's orchestra for the one-day recording session.
Days later, Shore appears at Master Sound Astoria along with his musical ensemble, ready to record the crucial forty seconds of dramatic music.
Time was short. This was not your everyday recording session.
Engineer John Kurlander had pre-arranged a phone patch to an LA edit room where Crystal listenedto the live music as he watched the film. Working in coordination with Kurlander, West Coast engineers had synched up the audio with the pictures.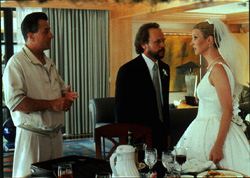 © 1999 Warner Bros.
To come out right, the music had to build at exactly the right beat.
On the new York end, a return satellite video feed had been set up so that Shore could see what Crystal was seeing. As Crystal listened to the live music and watched the moving pictures, Shore conducted the orchestra. With one eye on the musicians, he also watched a monitor (mounted on his podium) that showed the same scenes that Crystal was seeing thousands of miles away.
At the end of the day, all the pieces came together. The bi-coastal effor was a success. Shore and his orchestra packed up, said their thanks to everyone at Master Sound Astoria, and walked out into the brisk New York air.
Out in LA, Billy Crystal strolled out of his LA edit room, looking forward to the debut of a film the critics are calling "The Funniest Movie of the Year."